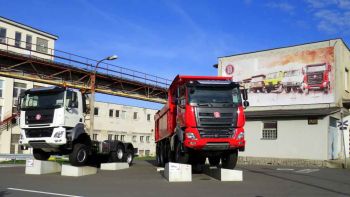 Hello friends, as I wrote in the last article, while visiting Kopřivnice and solving the exposition of Minimodels in the new museum of Tatra Trucks, we also took a look at the original Technical Museum.
As they moved all the trucks to the new museum, beautiful pieces of the T-603, T-613 and T-700 found a place in the vacated area.
The solution of the new museum is a fantastic project, where all the legendary trucks have enough space for presentation, as in the original museum the spaces were really cramped. The "patch" of the vacated areas can be felt a bit in the Technical Museum and it remains to be hoped that some more specimens of interesting vehicles will be procured and moved from the depository.
The premises and exhibitions thus remained in the Technical Museum as we know them well, except for the largest hall, which has become vacant and to which the mentioned interesting pieces have been added, which you can also find in the photographs in the attached gallery. At the same time, the deadline for preparing an article about the most interesting things that can be visited in Kopřivnice is approaching. We are currently working internally on the installation of the Minimodels exhibition. And if you go to see the new museum, be sure to go also to the original one.
Joomla Gallery makes it better. Balbooa.com
.