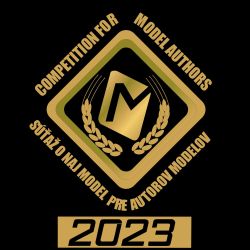 Well, this time we have a new competition for authors (creators) of models.
Competition rules:
The author of the models can participate in the competition.

One author can compete with only one model.

The model must be on a scale of 1:100.

The model must be based on a real model.

The model entered in the competition must not be published before the start of the competition on the website www.minimodel.sk/cz or in the FB groups Minimodel or FDS and Bucobox, this means that it must be a new version of the model (the author can use the existing base of his model,

which he previously designed and published, but it must be a different variant of the superstructure, a different arrangement of axles, wheels on the chassis, etc. A different color variant of the model is not enough.

The model should also include a simple "boxed" version.

The model should include illustrated or written instructions for building the model.

We prefer the color version of the model according to the real vehicle.

It is necessary to send at least 4 photos of the glued model to the competition with a minimum resolution of 1920x1080 px, the photos must not be blurry, the model in the photo must occupy at least 70% of the space of the photo.

Nominations of the upcoming model will be accepted until 15.01.2023 - the author will send a photo of the original model.

Sending a photo of the finished model and sending the model in pdf version is necessary until 15.05.2023.

We will start public voting from 15/05/2023 to 31/05/2023.

The public vote is supplemented by an expert jury (3 to 5 jurors).

Voting will end on June 1, 2023.

Theme of the model for the competition - Firefighting equipment, i.e. tankers,

combined fire truck

s,

powder fire truck

s, ladders, platforms, etc., which serve in fire brigades, whether voluntary, municipal, state or company.
Awards:
Diploma

Souvenir item Minimodel

Print model - Limits

The book Fire trucks by Milan Dermek.