We are announcing a competition for the most beautiful mini-model of 2020. The nominations will be closed on 12/15/2020 and from 12/16/2020 we will launch a public vote, which will be terminated 12/31/2020. Everything will happen on this site, so watch it ...
Rules:
Models must be in 1:100 scale
Models must be from authors LBS, Kopibox, MiRo, Triple M, Dark Tower, D_C Model, Technik, Schroub, EAB, Bucobox, FDS and "Amater - automatické pero", i.e. from authors publishing on minimodel.sk and minimodel.cz sites (including all old versions of these sites)
The models must be made in 2020
Photos must not be blurred
One modeler can compete with only one model
Nominated models:
Joomla Gallery makes it better. Balbooa.com
Evaluation:
A total of 15 modellers took part in the competition, who competed with models from authors Bucobox, Dark Tower, FDS model, MiRo, Schroub and Technik.
The competition was international in its participation. The contestants were from Slovakia, Czech Republic, Poland and even Chile in South America.
The youngest modeller was 9 years old and was from Poland.
Therefore, we decided to evaluate the competition separately and divide it into junior and senior categories.
In the Junior category.
Jacek T. Poland first place with Mercedes Actros 8x6 SLT from Bucobox with a total of 43 votes.
In the Senior category.
Przemek W. from Poland first place with Liebherr 964 B model from Bucobox with a total of 25 votes.
Second place went to Vlastimil S. from Slovakia with Tatra Tigon model form FDS-model with a total of 20 votes.
Third place went to Juan A. from Chile with Willeme W200 model from Technik with a total of 17 votes.
Congratulations to the winners and thank you to all the contestants.
In the attached picture you can see where the votes came from in the competition.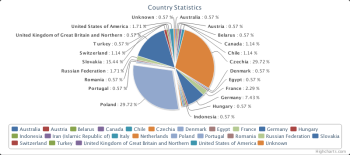 For each contestant we have a small gift in the form of a diploma and a paper model created for this competition and a pocket calendar. The best modellers will receive a pen with the Minimodel logo from us.
Congratulations and look forward to the next competition