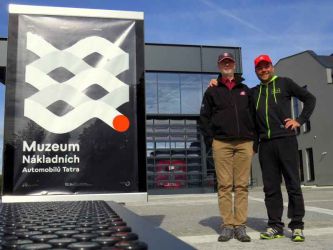 Hi friends, last weekend Frankye and I visited the best city for "big boys" - Kopřivnice. Thanks to Frenkye's activity, we had a meeting with the director of the upcoming new museum of Tatra Trucks. The solution includes the exhibition of minimodels in several showcases within the exposition, as well as possible further cooperation in the creation of new minimodels. Mr. Director is a nice person and the right enthusiast. You can also look forward to a separate article with a photo gallery at the official opening of the museum.
When we were in Moravia, we also visited the original Technical Museum, we can return to it in one of the other articles. Over the weekend, the Days of Technic also took place in the premises of the Tatra Truck Polygon, where we drew more ideas for new minimodels. We also met Pitris, we spent a pleasant day, together we stood a "queue" for driving through the polygon, but it was worth it, we got out of the cabins with a smile like the children at the Christmas tree. A trip where we combined pleasant with useful and which definitely paid off.
Joomla Gallery makes it better. Balbooa.com
.